Tweet
---
Alex Phillimore: (alex.phillimore-deleteme[at]-deleteme-direman [dot] com) 2013-08-04 06:06:57
Good Times With Cloudberry Kingdom
Made on a modest budget and topped up with a bit of financial help from Kickstarter, Cloudberry Kingdom is an interesting indie title with a fresh take on the platforming genre. Its main gimmick, if it can be called such a thing, is that levels are generated differently every time you play; drawing from a pool of assets, levels are constructed using clever artificial intelligence that randomly puts these resources together to create devious levels of increasing difficulty. The result is quirky, entertaining and challenging.

The technology cannot be faulted. While levels don't have as much variety as other platformers that have tailor-made levels, Cloudberry Kingdom boasts an attraction all of its own. Firstly, it's difficult - playing through any of the game's many modes sees the player quickly running into trouble. The game keeps going with a seemingly endless stream of stages and levels grow in complexity the more you advance through - by the time you hit level 100, stages are so difficult that pin-point platforming is required to get through them. Certain stages require superhuman levels of dexterity to beat; the feeling of conquering them is great, and conceding defeat is only ever a result of a lack of skill on the player's part, rather than cheap tactics engineered by the game to ramp up the difficulty.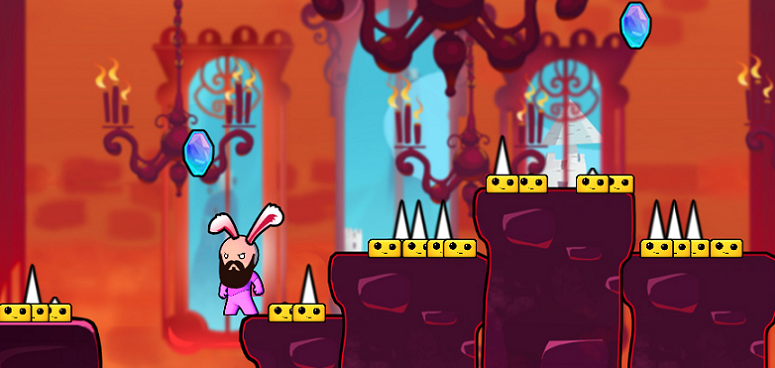 Secondly, there is more variety to the levels than initially meets the eye. Every playthrough will be entirely different: different enemy placements; different platforms; and different tactics needed to beat them. As levels are generated, you can play the game for hours at a time without getting bored by the same environments. Levels rarely feel similar, and the game even features a handy system for saving levels that stand out to the player for revisiting purposes at a later date. There is also something resembling a level editor built-in, as well as a story mode with a silly but worthwhile narrative, bulking out the package nicely.

The low price tags makes Cloudberry Kingdom a worthwhile investment. As the game is available on all major platforms, there is really no reason not to pick it up if you're looking for a challenge. Online leaderboards add a further incentive to take the plunge, as you can face your scores off against your friends and worldwide opponents. There are a lot of hard platformers on the market, and Cloudberry Kingdom rightfully deserves its place up there with titles such as Super Meat Boy. It might not have the same painstakingly well thought-out levels, but it makes up for it with the sophistication of its randomisation system.

An obnoxiously looped and not terribly well-suited soundtrack is one of the few negatives. Thankfully, the strength of the gameplay negates any aesthetic issues, and while the music is lacking the visuals are top-notch. There is content enough here to last you for weeks, and fans of the game's mechanics will find the prospect of infinitely varying levels enticing. The 'just-one-more-go' factor is particularly strong, aided by the quickness of respawning and a strict learning curve. If you're looking for a platforming game that prides itself on being difficult and endlessly changes, I don't hesitate to recommend Cloudberry Kingdom based on its premise and price.