Tweet
---
Alex Phillimore: (alex.phillimore-deleteme[at]-deleteme-direman [dot] com) 2013-08-22 07:38:47
An Interview with Image & Form (SteamWorld Dig)
Swedish developer Image & Form are currently making big waves on the Nintendo 3DS eShop, having hit the #1 position on both the Australian and European stores with their ambitious game SteamWorld Dig. I spoke to Image & Form about their time in the industry, how it feels to have a critically-acclaimed game on the market, and what the benefits are of working with Nintendo:

Alex Phillimore: Hi guys! When was Image & Form established and where are you based?

Image & Form: Image & Form was founded in rainy Gothenburg, Sweden 1997, and we started out as a 2-person multimedia and web company. We went from multimedia, web and small games to web development on a bigger scale. We have currently a staff of eleven; five programmers, three graphics artists, one technical artist, some sort of project manager and of course a CEO to do all the real work.

AP: How would you describe SteamWorld Dig to an audience unfamiliar with the game?

I&F: SteamWorld Dig is a "platform mining adventure". That means that the controls are like a platform game, the objective is mining, and the emergent gameplay makes it an adventure. The objective of the game is to mine, sell, upgrade equipment, watch the town recover - and dig ever deeper to find what evil lurks below. Since the game maps are generated procedurally, no two game sessions will ever be the same. There are a lot of quirky mechanics that help you navigate the underground, things that may be obvious to a robot but which require some mastery for humans.

AP: When did development start for SteamWorld Dig?

I&F: Parts of the team have been working on the project since October 2012, but we all went full time this January. In a small studio such as Image & Form, there is always a lot of projects floating around so to have the whole team committed 100% to just one project is borderline impossible.

AP: Could you tell us a bit about your development history?

I&F: In 2002 we worked on an "edutainment" game project for a Norwegian publisher, and after that, got asked to do games from scratch for them. It still felt like a side business until 2007, when we were asked to increase the production speed from one game in 18 months to 8 games per year... then we didn't have time for anything else.

We created some 30 unique full-length edutainment titles in that same franchise from 2007 until early 2010, and then we decided that it was time to move on.

In late 2009 we decided to pull ahead and developed our first iOS title, Gyro the Sheepdog. It's a nice little game and all, but we really were beginners on the Apple iOS scene, as were many others. We didn't know anything about how to spread the word about the game, what we could expect in terms of ROI, or even how we should limit the scope of the game. We decided to release it just to learn the mechanics of the App Store, reviews etc, but generally it was a failure.

In parallel we developed SteamWorld Tower Defense for Nintendo DSiWare. We thought it should be possible to make money off a game on the DSiWare store. We thought the storefront itself was terrible, but we got a couple of good reviews, most notably from IGN who decided that the game was "Great", and SteamWorld Tower Defense actually paid for itself pretty soon after launch. It was a great experience, since we always "knew" that we could try developing for the Nintendo 3DS and the eShop.

Also, by the end of 2010 we were awarded a grant from the Nordic Game Program for a game idea that we called Anthill. Since we got the money we felt obliged to produce a game, and to be honest our initial thoughts - for which we got a grant - were sketchy, at best. We really had no idea how Anthill would work, and reading the game pitch now is a great source for laughs. They must have seen something that definitely wasn't there.

We continued to do work for hire, among others a game called Mariachi Hero, which was really cool but got terrible reviews in the US.

After that Anthill became our main focus, and after a while we realized it would be a stunner of a game. We were still marketing rookies, we were almost completely unknown, didn't really know where to turn to get noticed, when in desperation - a month prior to launch - we decided to straight up contact Apple and really flaunt the game. We were surprised and lucky: they thought Anthill was awesome, and decided to have it featured as iPad Game of the Week - which was a huge break for us when we released it in October 2011.

Since then we've also developed an iOS game called Hugo Troll Race, a 3D horizontal runner reminiscent of Temple Run and similar. That was probably the last work-for-hire game we'll ever do. And now we're focusing all our efforts on SteamWorld Dig for the Nintendo 3DS.




AP: What was it like working with Nintendo? Could you explain the process of getting your game onto the 3DS eShop and what sort of involvement Nintendo had, if any, in the development process?

I&F: Our contact with Nintendo has been great. Nintendo is very thorough in their submission process, and they have very knowledgeable and helpful staff to lead you through it. Add to that the feeling that they are engaged at both a professional and a personal level and your life as a developer becomes much easier.

AP: Would you be happy to work with Nintendo again for future titles, and would you consider releasing games on other systems?

I&F: We are currently working on a new project set in the SteamWorld universe. It will be for the Nintendo 3DS, because we feel very comfortable developing in the 3DS environment and we have built up very good relations with Nintendo with Steamworld Dig.

As to releasing titles on other platforms, it is a given. We do have expertise in iOS-development and currently have a very interesting game for iOS that we've had on the back-burner for a while now.

AP: Where did the idea for making a steampunk-styled game come from?

I&F: When we first came up with the game idea for Dig we felt that it would be cool if the miner was an old prospector, and since we had SteamWorld Tower Defense in our backlog, the steam-cow-bot theme just fit perfectly to the title.

AP: Rusty is a charismatic protagonist. Could you tell us a bit about his role in the game, and what makes him a unique main character?

I&F: Rusty is basically an uncomplicated guy. We portray him as a Clint Eastwood-"Man With No Name"-kind of character from classic spaghetti-western movies. He enters the story when he is traveling to the backwater mining town of Tumbleton to claim the deed for a mine his uncle sent him a while back. Rusty's quest for a quick buck soon enough turns into a quest for answers to what really happened to his uncle and the true face of the horror that lurks in the deeps under Tumbleton.

AP: Reviewers have commented that SteamWorld Dig has a Metroid-esque feel to it, with the gradual acquisition of power-ups. What games would you say influenced SteamWorld Dig?

I&F: There are a bunch of games that you could say had some influence on the gameplay. Super Metroid, Dig Dug, Miner Dig Deep, Spelunky, the list goes on and on when you look for games that share similarities with SteamWorld Dig. In the creative process we did look at other games when we encountered problems with the game play or game mechanics, but we've always stayed true to our ambition: to make an interesting and challenging game in a fun and original setting.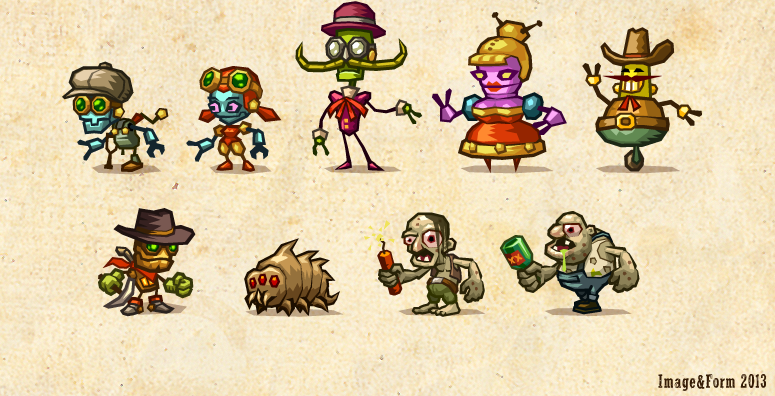 AP: The cast of characters in the game are full of personality. Could you tell us a bit about the process of making the characters?

I&F: A lot of the characters sort of came to be as we wrote the story and polished the world. SteamWorld Tower Defense sort of set the ball in motion and when we built SteamWorld Dig the SteamWorld universe just kind of built itself. The inhabitants of Tumbleton all have a role or a specific task to perform that fits the setting and plot. The writers and graphics artists then just sort of let the citizens of Tumbleton come alive. The western theme has a lot of archetypes to pick from which is a lot of fun. We actually had to hold back and cut a whole bunch of content just to not over shoot our deadlines too much.

AP: So there were some unused ideas for the game that you later scrapped or changed?

I&F: Tons, and tons! When developing as an Independent studio, time and budgets are both your worst enemies and your best friends. They help you stay in line with K.I.S.S. (Keep It Simple Stupid!) and make sure you finalize projects. Cutting out features and content is hard but necessary in a creative process if your aim is to ever finish. Kill your darlings, as they say.

AP: I completed the game after taking my time uncovering just about everything, and I clocked in about 6-7 hours. Given that SteamWorld Dig has the potential for speed-running, what is the fastest time you have seen anyone complete the game?

I&F: We actually have one that did a speed-run and got through the whole game in 39 minutes!

AP: Reception for SteamWorld Dig has been immensely positive. How does it feel to know that so many people are playing and enjoying your game?

I&F: Pretty awesome! :-) No, seriously, when you see what people write about in forums, on Twitter and on Facebook it reminds you of what made us want to make games in the first place. It's just very gratifying, and drives us to make even better games in the future!

AP: A lot of people heard about SteamWorld Dig for the first time when the game was showcased in Nintendo Direct. Did you know that your game was going to be featured on such a wide-reaching channel, and how has the media attention been since?

I&F: We got word just a day before it aired, and it was pretty intense!

To get that kind of publicity is a big deal for an Indie studio such as ourselves, and when we got those 48 seconds of video exposure, it was just euphoria!

That spot did a lot for SteamWorld Dig. We had had some exposure from gaming media before release, but after Nintendo Direct, interest in SteamWorld Dig quickly got jacked up a few notches for sure. Requests for interviews are pouring in and it's hard to keep up with you all, as I'm sure you noticed! ;)

AP: Haha! So what's next for Image & Form?

I&F: Oh, it's full speed ahead with new projects, as I said; there's a new SteamWorld title for the 3DS, and an iOS-project that I really can't talk about right now, but ask me again in a couple of weeks! ;)

• Learn more about SteamWorld Dig by liking the official Facebook page.

• Read about what we thought of the game here.