Tweet
---
Alex Phillimore: (alex.phillimore-deleteme[at]-deleteme-direman [dot] com) 2013-09-10 14:35:41
Puppeteer is HD Dynamite Headdy
Puppeteer (PS3) looks like a fun and stylish platform game. I'd expect nothing less from the team behind a lot of niche Sony gems, from in-house projects such as Ape Escape (PS2) to contributing to fantastic titles like Tokyo Jungle (PS3). Every great platformer needs its gimmick, and in Puppeteer one of several gameplay elements that adds diversity to the experience is the ability of the titular character to find different heads, each granting him with a different ability. I particularly like this concept, because it reminds me of games such as Kirby, where abilities can change depending on the character's appearance. More than Kirby, however, Puppeteer reminds me of a great little platformer on the Sega Genesis/MegaDrive by the name of Dynamite Headdy.

Headdy was one of the earliest games I played on my MegaDrive system when I was about five years old. It was hard as nails back in the day, and I imagine if I played it now I'd still struggle with it. Developed by Treasure, the legendary development team behind challenging games such as Ikaruga and Astro Boy: Omega Factor, Headdy was the kind of game that kept me entertained for hours due to its difficulty. I don't believe I ever completed it, despite loving every second I spent with it. The game had several unique things going for it, one of which was the main character's ability to acquire different heads that gave him different abilities, much in the way that the concept works in Puppeteer.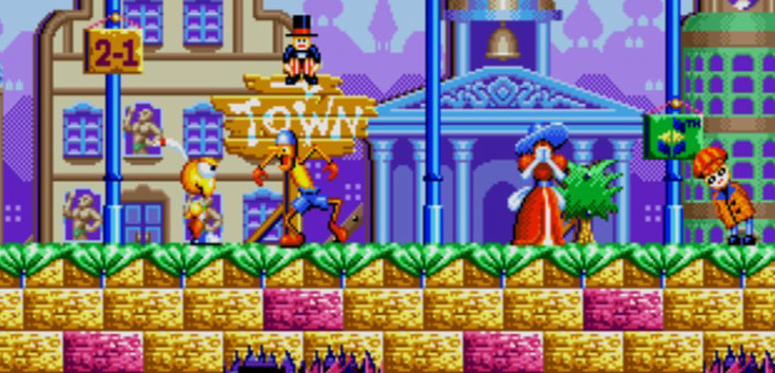 I'm not arguing that Puppeteer ripped off Dynamite Headdy, but as a player who enjoyed the Treasure classic, I have to say that it's a nice, if inadvertent, testament to that old game that the same gameplay idea is still being used today. It makes me laugh, as well, that Headdy was a puppet in his game, making the comparison all the more pertinent. The game played out as if part of an ongoing performance, with stages, curtains and audience members clapping enforcing the aesthetic. This same clapping during particular points in the game happens in Puppeteer - the more you look at it, the more Sony's latest seems to be like something of a spiritual successor to Dynamite Headdy.

I love the platforming genre because it's so timeless. A lot of games don't stand the test of time, but games such as Super Mario World (SNES) still play beautifully today. It's interesting to see that a game with as much visual splendor and processing power behind it as Puppeteer can still fall back on a lot of thematic and gameplay elements seen in a title released all the way back in 1994. It's a reminder that although games will continue to branch off in new and exciting directions, there is still room to look to the past for inspiration. A lot of old games may look dated now, but many of them had some great ideas going for them that deserve to be re-explored in modern examples of the medium.

Dynamite Headdy is a great game, and one that I would recommend to players looking for a good challenge, or anyone who may pick up Puppeteer and wishes to play else something like it. The game is available as part of the incredibly good value for money compilation, Sonic's Ultimate Genesis Collection (PS3/360), meaning that you can even play it on the same system you can play Puppeteer on! What are you waiting for?