Tweet
---
Alex Phillimore: (alex.phillimore-deleteme[at]-deleteme-direman [dot] com) 2013-12-05 15:54:28
A Trip to the Dentist Review
One-man indie powerhouse Sadman's A Trip to the Dentist (PC) isn't a typical video game. In fact, when playing it, you'd be forgiven for thinking, at least at first, that it isn't a video game at all. It requires a certain kind of patience and humour to 'get' Sadman's debut release, but, like all of the best obscure indie games, there are layers of depth on display here that belie its basic appearance.

In Trip you play as Dennis, who, simply, needs to go on a trip to the dentist. This is a normal every day occurrence and casts Dennis as an every-man. There's nothing particularly special about Dennis - he's just a regular man who needs to get his teeth checked up on. Instantly, you can relate to the character because of this; he doesn't have any unrealistic objectives or special abilities. He's just a regular old fellow, complete with all of the caveats and imperfections that come with the territory.

Dennis cannot speak, and thus communicates exclusively through hand gestures and laughter. Players will guide Dennis through eleven different scenarios where he needs to engage with an assortment of characters using only these limited means of expression. The outcome is dependent on the way you choose to tackle a situation. For example, during a pivotal scene at a zoo that Dennis must travel through on his way to the dentist, the player will walk up to a tiger behind some bars. You can either laugh at the tiger, or put your hand between the bars and have the tiger attempt to bite you. Whichever option you pick is purely down to your own approach - the game continues regardless, giving the game an organic feel.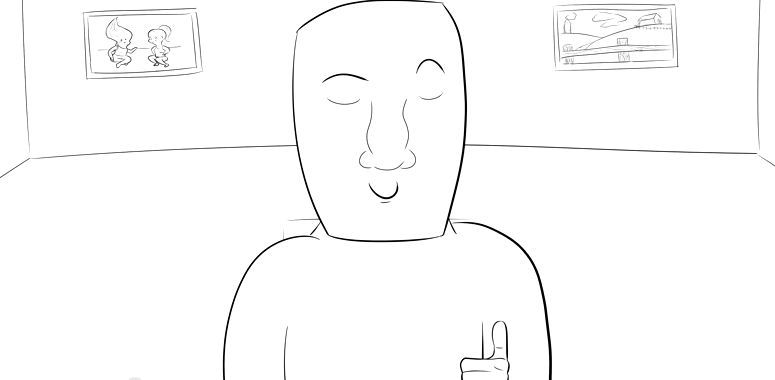 Trip is all about understanding existence through the mute world of Dennis, where touch is the most important of his five senses. This makes the game remarkably visceral, as you come to care about Dennis as you essentially play through a day in his life. You don't earn points or kill enemies - you touch things and watch the ensuing reaction from whatever animal, vegetable or mineral you choose to interact with. These interactions are brought to life through Sadman's iconic art style that doesn't shy away from hiding a cheeky Easter Egg or two in the background.

At two hours, Trip is short by any standard. However, the game is also free to download, meaning that even if it doesn't end up being your cup of tea it's worth having a play around with it. Sure, the game is rough around the edges - animations occasionally stutter and there's no colour, other than in an oddly poignant scene right at the end of the game - but its small indiscretions can be forgiven based on the unusual - and wholly unique - form of gameplay on display. It is telling that Sadman described the game as:

"A collection of short events in the life of that one guy you all know of but never cared to actually get to know".

We all know that kind of person; Dennis is the classic underdog, but I left his black-and-white world feeling like a better, and more approachable, person.

Check out the official trailer for the game below and see if it's your cup of tea:

>>>>>>Want more of this? Like my Facebook page!<<<<<<